Safiya Al Balbisi and Aziza Awad, PRCS EMTs, have been roaming the streets of Tulkarem in the Northern West Bank for the past 40 days, offering assistance in the context of COVID-19.
Al Balbisi, a skillful ambulance driver, has spent the past 23 years working with PRCS and was the Society's first female EMT  and ambulance driver. Speaking about her experience with PRCS, she said: "I have worked as an EMT for a long time and have gained a lot of experience on how to deal with patients, including those in critical condition. I am not afraid of transporting suspected COVID-19 patients because I follow all precaution measures: I wear protective gear and respect protocols in terms of disinfecting ambulances and EMTs. However, what I fear is unknowingly transmitting the virus to my family, especially to elderly relatives".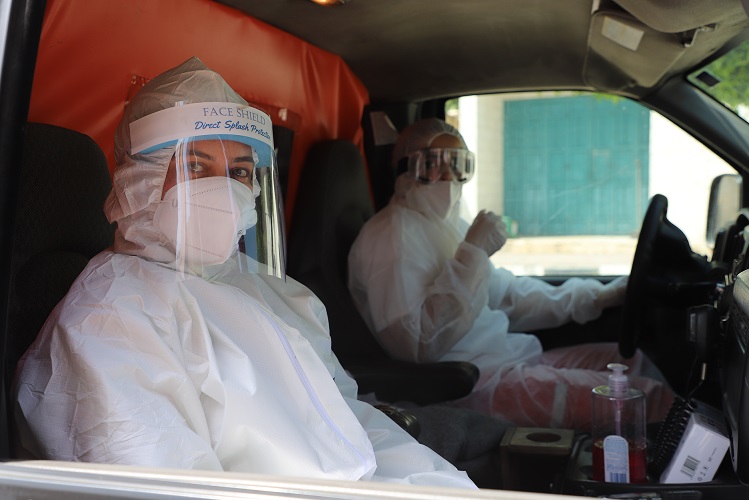 Speaking about the protocol for handling suspected COVID-19 patients, Al Balbisi explained that they are transported in close coordination with the Palestinian Ministry of Health which determines to which healthcare facility they are to be taken.
Ms. Aziza Awad said that what drove her to become an EMT, a profession she is passionate about, was her desire to save lives. "Traditions preventing women from becoming EMTs should be chased away. I encourage young women to work or volunteer as EMTs, especially given that female EMTs are essential in certain situations", she added.
Speaking about the handling of suspected COVID-19 cases, Awad said: "As soon as we are dispatched, all information is provided to us by PRCS Central Emergency Services (101 Call Center) and we liaise with the MoH via the Palestinian Preventive Medicine Services in order to ensure all necessary measures are taken".
PRCS adheres to all COVID-19 prevention and control measures and has provided Personal Protective Equipment (PPE) to its crews as per agreements with the Palestinian MoH.
The Palestine Red Crescent Society
April 28, 2020