When you think of the word 'innovation', what, or who comes to mind? Is it Edison and the lightbulb, or Marie Curie and her discovery of radioactive elements to help treat cancer, or Dr Gladys West and her pioneering invention of GPS. Maybe even Bill Gates' and Microsoft Word? For me, it's Professor John I.Q. Nerdelbaum Frink Jr., scientist, inventor and Simpsons character.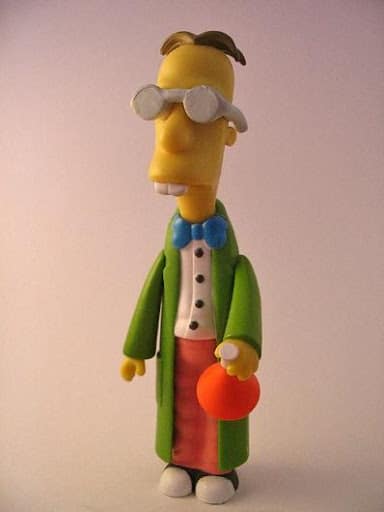 "Glavin!"
If recent essays and data are to be believed then I think I am safe in assuming that most of us know about the Simpsons (yes that's right, I have research!) which is just as well, as I plan to reference The Simpsons throughout this post.
I think The Simpsons is packed with innovation. Notwithstanding their ability to predict the future, or the fact that it is still globally enjoyed after more than 750 episodes, each episode sets a (business) problem and then the story arc takes us to a conclusion. Sometimes good, sometimes not so good. Remind you of anything?
But the reason I think of Frink when I hear the word innovation, is that the word "innovation" for me is often associated with a single person. Highly intelligent. Passionate. Hyper-focused. And to me it often feels like innovation is none of my business. Innovation is for others, for "innovators".
"The summit shattered my preconceptions of innovation and innovators"
Then I attended (and presented at) the Global Innovation Summit in Nairobi, and I can now see a problem with this. The summit shattered my preconceptions of innovation and innovators, so that I could then start to build my own relationship with innovation.
Firstly, just look at that agenda! It is clear to see that innovation covers everything, EVERYTHING! Our minds were blown by the expanse of ideas and different national societies bringing their concepts and problems to the table for open discussion. Innovation can be for anything.
Then, from the opening keynote speeches and scene setting, the atmosphere of the summit was set. The event was like a festival of sorts – colourful and with the freedom to move around between tents. Places to unwind and reflect, network and meet new people. Freedom to roam gave way to freedom of thought and it created the right environment for us all to interact and build ideas and share stories.
For me it was eye-opening.
On the second day, we ran our workshop; How can technology empower volunteers and supercharge volunteering In this session, I talked about how I have a problem with the word "innovation", which is not just down to my assumptions that people like Frink will have innovation covered (when in fact his innovations often cause more harm than good) but also because innovation seems to suggest it is the work of a singular person, the innovator, without acknowledging the weight of the effort it takes to bring innovation to life. Take Edison's commercialisation of the lightbulb – do we hear about his researchers and lab team and their efforts to make this happen? Or the factory processes to bring this idea to life and to the population? Not so much. And I think this idea of innovation, as something done by others as a spark of unobtainable genius, turns most people away. It certainly does for me.
"It takes all kinds of characters to innovate"
But the summit has helped me find my relationship with innovation, and has taught me that innovation is for me, and for others like me. Innovation isn't some magical force gifted to the few. Innovation is for all of us. For the people. It should be democratised and we should all be empowered to find creative and innovative solutions to problems. And it is not just something we all can do, it is what we should do.
We should also recognise that it takes all kinds of characters to innovate, not just one lone Frink-like genius. Like each member of the Simpsons family, we all have different roles to play, from Homer's thoughtless risk taking (see my personal favourite "Wizard of Evergreen Terrace"), to Marge's steadfast pragmatism, to Lisa's compassion and humanitarianism – we need all of these personas, and more besides, to combine and to make innovation work. And as the Red Cross Red Crescent movement, we need to be in this together, like a family.
So as I start to draw this ridiculous blog post to some sort of conclusion, I feel like we have to ask ourselves: how do we continue the conversation and build on the momentum the conference provided?
How can we empower others to ask "can we do this differently" and democratise innovation so it becomes normal, even expected, behaviour?
I think it starts with taking the environment created in Nairobi, and seeing how this can be replicated in our own national societies, for example;
Ask ourselves "can we do this differently" and allow everyone to ask this question
Create the right conditions to allow for creative thinking, and allow for failure and risk taking
Diversity of thought and experience is crucial. It is the mix of personas, people, perspectives, backgrounds, cultures and ideas which leads to insightful conversations and exchanges of ideas
Recognise that we have the answers; our teams, our frontline, our volunteers – they should be involved and heard
Risk and innovation have a love/hate relationship. Being too risk averse stifles creativity, but we need to consider and respect our own societies risk pressures
We must backup innovation and creativity with a solid process to implement and embed changes. Let's not give innovation a bad name by landing changes poorly
The world has never seemed more broken, and it will take us all to build innovation into normal practice so we can adapt and confront the world's 21st century challenges. And like the Simpson Family, who have stayed together (mostly) through 750 episodes, we are clearly better stronger, and more creative when together, so what role will you play to keep innovation alive?
---
[1] – The Simpsons : Professor Frink" by Frenkieb is licensed under CC BY 2.0.