In a world where technological advancements are reshaping industries and societies, integrating artificial intelligence (AI) into humanitarian aid has emerged as a promising frontier. The Generative AI (GenAI) workshop at the IFRC provided a platform for experts, innovators, and advocates to explore the transformative potential of GenAI in addressing the complex challenges faced by humanitarian workers and disaster-affected people around the globe. Participants convened and designed the foundational elements of the burgeoning AI Community of Practice.
Artificial Intelligence and humanitarian work
Artificial Intelligence is a technology that imitates human thinking and learning. It helps solve complex problems and make decisions, similar to how people do. A specific part of AI deals with thinking and learning coming directly from data. Supervised learning involves teaching a computer by providing it with labeled examples, allowing it to make predictions or categorize new data. Unsupervised learning, on the other hand, enables computers to explore and discover patterns in data without prior labels, helping uncover hidden structures or relationships. Generative AI, like a creative artist, generates new content, such as images, text, or music, often by learning from existing data and creating something novel based on that knowledge.
GenAI can be a very useful tool in the humanitarian field, provided it is used wisely. Many applications of GenAI have been or are currently implemented in humanitarian organizations, for example summarizing, writing content including scenarios building for various applications, supporting communications content drafting, helping to draft ToRs, suggesting research questions and even highlighting knowledge gaps.
If you are keen to learn more about GenAI for Humanitarians, see this recent article from OCHA
Over the past years, the IFRC Network has been using AI to better prepare, respond and learn from disasters. For example, the 510 team has used AI models for hazard impact forecasting, the American Red Cross team has proposed models using street-level imagery for damage assessment and the IFRC Secretariat DREF team has used AI to tag operational learning.
Experiments with AI continue throughout various humanitarian services with either in-house experts or third-party providers. There was no formal group to discuss use cases, lessons learned, and best practices. Organized by a collaborative effort between IFRC and 510, an initiative of the Netherlands Red Cross Society, the event aimed precisely at addressing this gap, by providing a dedicated moment of reflection for practitioners and advocates.
Get Involved
Join the IFRC network's AI Community of Practice
Understanding GenAI

©Cartoonbase Technogram
The opening day of the workshop was dedicated to building a foundational understanding of GenAI, introducing the main technologies that make it possible, demystifying some (mis)conceptions regarding their functioning and capabilities, and analyzing interesting use cases.
Participants expressed the following common interests to be discussed in the workshop and beyond:
Use cases: who is doing what type of GenAI applications in the network? AI-assisted humanitarian data analysis: how can GenAI best support the current work of RCRC data analysts? Where GenAI can bring the most value?
Ethics and Responsibility: how can we ensure that AI-driven humanitarian tools adhere to ethical guidelines, avoid biases, and prioritize the well-being of the communities they aim to serve?
Community of practice: who is working or is interested in GenAI and more broadly in AI? How can we collaborate with each other?
Caroline Holt, Director of Disasters, Climate, and Crises, highlighted the need for data scientists and data enthusiasts to set the direction for GenAI in our network, guided by our fundamental principles, and harnessing our privileged position for engaging and collaborating with other organizations. A direction that has as its core accountability for the communities we aim to serve.
"I believe also the data has become the new frontier of humanitarian work. It's the new place where we contact and we are engaging with vulnerable populations. It's the new way in which we are engaging with governments, with the bigger picture."

Caroline Holt
Applying Gen AI
Understanding the ever-changing field with the potential opportunities and risks of Generative AI is complex, even for data scientists and data enthusiasts. Nicolò Tamagnone of Data Friendly Space (DFS) shared an accesible introduction to the world of GenAI. Concepts like Large Language Models (LLMs), prompting, and reinforcement learning were explained, setting the stage for participants from diverse backgrounds to engage effectively with the discussion.
What are some concrete Gen AI use cases we can explore? We determined two potential items for further discussion:

Knowledge synthetization: consolidate textual and tabular data of an entire organization (documents, budgets, etc.), thus having one centralized source of information and an AI-enabled assistant to help users navigate it.
Assistance to affected people: help people affected by disasters to navigate the service offer of a National Society (NS), so that they can more easily find if the NS can help them and how.
When considering these use cases, we identified these questions:
How can current processes be adapted?
How do we ensure accountability and transparency?
Can GenAI models handle the complexity of the tasks at hand?
How can we build them?
Which resources do we need?
There are many additional questions across use, ethics, risks, and opportunities. Once the use cases are be comprehensively defined and the proper governance is in place, there is still development work needed to build the tool, test it, and operationalize it. This is the primary role of data scientists.
The Projects Repository
Consult the Red Cross and Red Crescent Data Science Projects Repository
The Role of a Data Scientist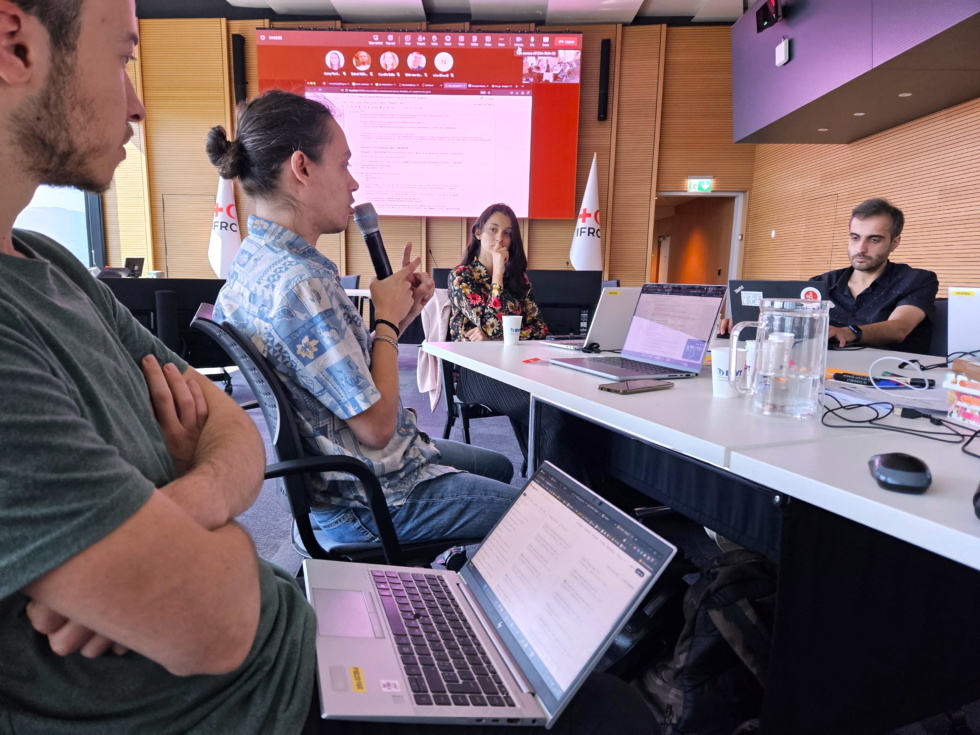 Data Scientists is a growing type of expertise in the humanitarian field. A data scientist does complex and computational data analysis at large scale. There are many types of data science profiles in National Societies /IFRC. The actual data science roles are varied based on the individual skillsets and the organizational needs.
Juriaan Lahr, IFRC Director from the Digital Transformation mentioned the enormous appetite that there is in harnessing AI and maximizing the value delivered by data in our network. He called for task prioritization, solution reusability, collaboration between NS and IFRC, transparency through documentation, and appropriate data security and management, to build internal trust, facilitating easier access to necessary tools.
Therefore, we concluded the first day identifying several ways in which the newly launched the AI Community of Practice can support its members: knowledge sharing – from tips and tricks to actual code – standardized tools, and dedicated training.
Practicing with GenAI
The second day was dedicated to a hands-on exploration of how generative AI could be used within our data-science pipelines. We used a dedicated ChatGPT instance set up by the 510 team, to understand how to start using it and which options were available.
As it was the first time that the participants in the room were together, we also used the time to share parts of scripts each participant had developed in their data-science journey at the IFRC Network: passing through financial forecasting tasks, georeferencing of information, retrieval of Red Cross and Red Crescent entities in maps, and indicators aggregation for crisis categorization.
Join the AI Community of Practice
Participants were thrilled to have a dedicated event for GenAI and were eager to continue the discussion both online and in future face-to-face meetings, to learn from and collaborate with each other.
We want to start by empowering the most digitally skilled in our organizations – data scientists and not – with the space to experiment with and learn these emergent technologies, so that we can ensure that they are used safely, effectively, and to solve the right problems. We welcome you to join the AI Community of Practice to make change together.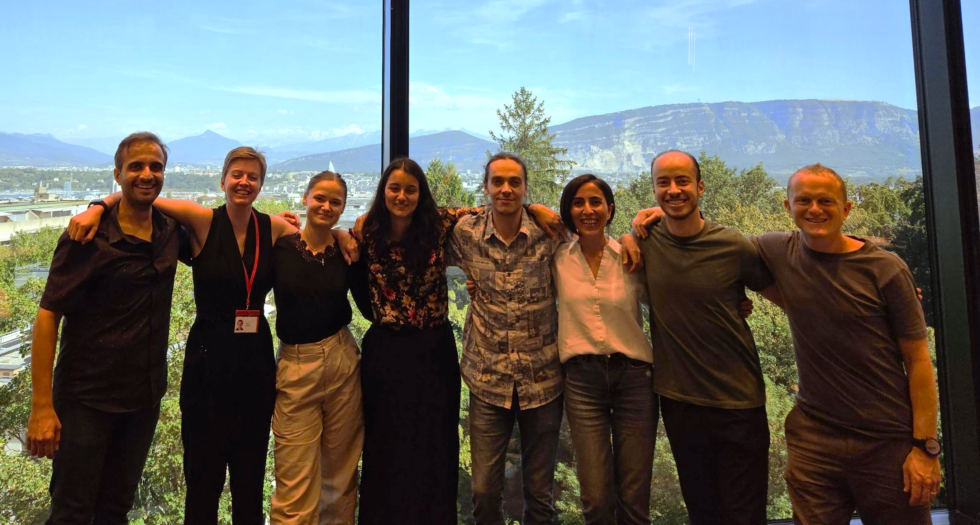 ©IFRC