Photo Credits: Red Cross Aruba and Red Cross Curaçao
---
Reaching 3500% more people than before – Red Cross' road to digitalisation in the Dutch Caribbean (Curaçao, Aruba and Sint Maarten).
The Red Cross branches in the Dutch Caribbean countries Aruba, Curaçao and Sint Maarten saw their work increase tremendously, almost overnight, when the corona crisis hit. They went from serving 5-200 households a month with food vouchers to reaching up to a whopping 7000 households monthly per branch. How? By radically digitising their operations, with the support of the Netherlands Red Cross (NLRC) and its Data and Digital team 510.
"The biggest challenge was to shift the mindset towards working online," says Maisy Scharbay, branch manager of RC Curaçao.
Currently, the branches are assisting 20-30% of the population with food and hygiene. The aid is now given using digital tools.
After the online self-registration via Kobo, a free open-source tool for mobile data collection, potential beneficiaries are asked for their personal data to see if they meet the eligibility criteria, and are asked for their preferred modality (Ready to Eat meal, Food parcel or E-voucher). The potential beneficiary receives a phone or skype call, in which their data is checked. The selection criteria and whether they fit in it are also explained to them.
---
---
Once admitted, their data gets transferred from Kobo to a Customer Relation Management (CRM) database, from where all aid and communication is initiated. The only paper that is still being used is the distribution list with signatures by the beneficiary, confirming they have received the aid.
"Actually, even these are then scanned and saved online", says Caroline Delori, the NLRC regional relief delegate.
Working digitally has improved the communication and engagement with beneficiaries. Reaching out to beneficiaries is done via Twilio, a software linked with the CRM database which allows to send mass whatsapp or text messages. This means communication can happen more often and targeted, in peoples' preferred language. People get a message once their voucher is uploaded and are informed about their personal (left-over) balance.
---
"At least 150.000 messages have been sent. Selection criteria can be repeated, but also fake news or scams can be easily addressed. Also, we have never seen such a high response to our evaluations", says Tijs Ziere, the Cash Information Manager of 510 who customized the CRM to fit the Red Cross' needs in the Caribbean.
---
---
"A possible downside of working digitally is that direct contact with people is reduced. We miss the face to face connection with people. On the other side, this way of working is exactly what makes it possible to do our work safely during COVID", Maisy Scharbay says.
"Changing a strategy during an ongoing socio-economic crisis takes time, which is a choice not easily made, especially while people are depending on the aid you are providing", says Michel la Haye, director of RC Aruba.
However, he was convinced something drastic needed to be done. He smiles, "A temporary step back immediately allowed for improved impact and reach after."
Changing towards working digitally in a country where online banking was not even possible before the crisis, proved to be a challenge.
"Two volunteers literally refused to use a laptop. I put the laptop on their desks anyway. Together we discussed their difficulties with technology, but also the potential benefits it holds for us all". Maisy Scharba chuckles, "Sometimes, you have to facilitate change."
Indeed, buy-in of higher management, as well as the motivation to work digitally from the bottom up is needed for a smooth transformation and mindset change.
"Young people are a great addition, as they can evolve the digitalisation process", Caroline Delori says.
---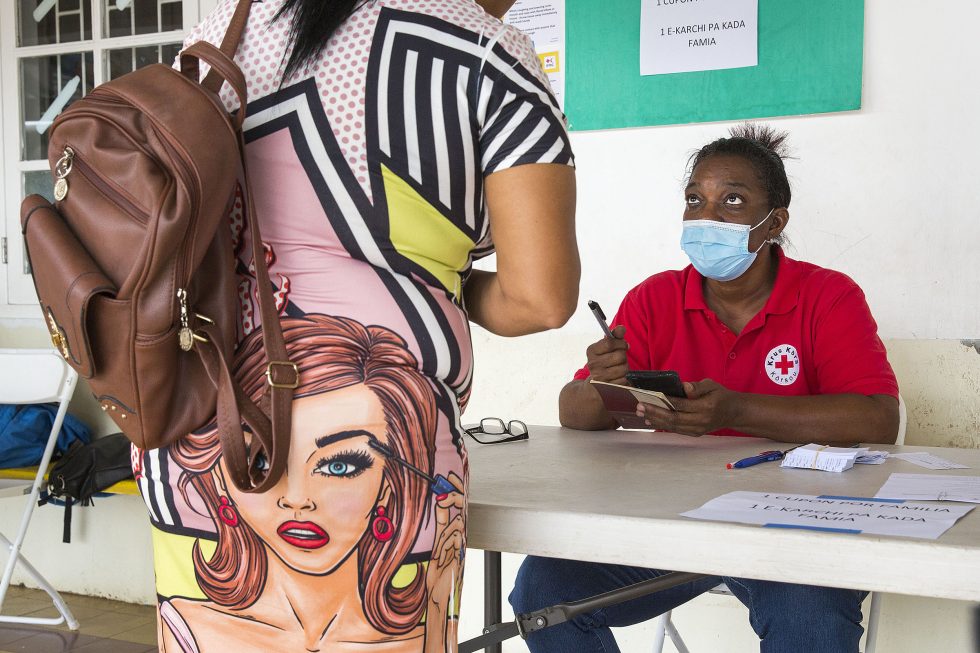 ---
Finally, the impact is bigger than merely the Red Cross family and the beneficiaries, as a mind shift happened island wide. Being partners in the relief programme, multiple local organisations were introduced to the new way of working. Using the CRM software allowed them to create a central database in which all (potential) beneficiaries are registered and duplication was avoided. From there, they are appointed to an organization. Working safely with multiple people and organizations in the same database is possible as personal data can be blocked, and authorization for access within the system can be adjusted per team member.
"After only a few hours of training, many people are able to work in the system and request non-personal data or graphs they would need, while at the same time we are adhering to the European GDPR Guidelines for privacy", Tijs Ziere says.
Digitisation is essential for our work in the future. It can be set up easily with the right mindset of team members and with some help of international deployments, use of expertise of the data and digital team 510 and a local IT company.
"Let us help each other to take our meaningful work a step further", Maisy Scharba says.
As a saying in Papiamento language goes: 'if one hand washes the other, they both become clean'.