Author: Jennifer Gilbertson – Norwegian Red Cross
Illustrations: DesignIt
This emergency is not just a health issue. Day by day, we see that social vulnerability is increasing and it needs us to have a global vision on health which is not physical health but psychological and social health as well. Not just the elderly and ill, but also young people who feel anxious.
First pandemic? Pandemics are stressful. The good news is actors within the RCRC Movement are bringing together their expertise and experimenting with new ways to deliver and provide psychosocial care. 
One of the most frequent and persistent messages coming from National Societies and volunteers alike is the challenge and importance of mental health and psychosocial support (MHPSS) during the COVID-19 response. In the past weeks, National Society actors have quickly established and scaled up PSS hotlines, webinars, online courses, and services for vulnerable groups. There have been a couple key interventions and services which have stood out. 
Community PSS
The Challenge: 
In every country where we work, we have seen the fear and anxiety experienced by our beneficiaries. Whether its government lockdowns or self-enforced social distancing, many of us have been suddenly cut off from others in our lives. 
The Opportunity
:
The RCRC Movement has very strong networks and materials in place for providing quality MHPSS care, and some of the innovations during COVID have been: 
Scaling

: Rapidly increasing services, such as hotlines and online courses.

 

Platforms

: The mode of delivering services and support.

 

New users

: In addition to vulnerable groups within communities, more people are at risk of alienation and loneliness.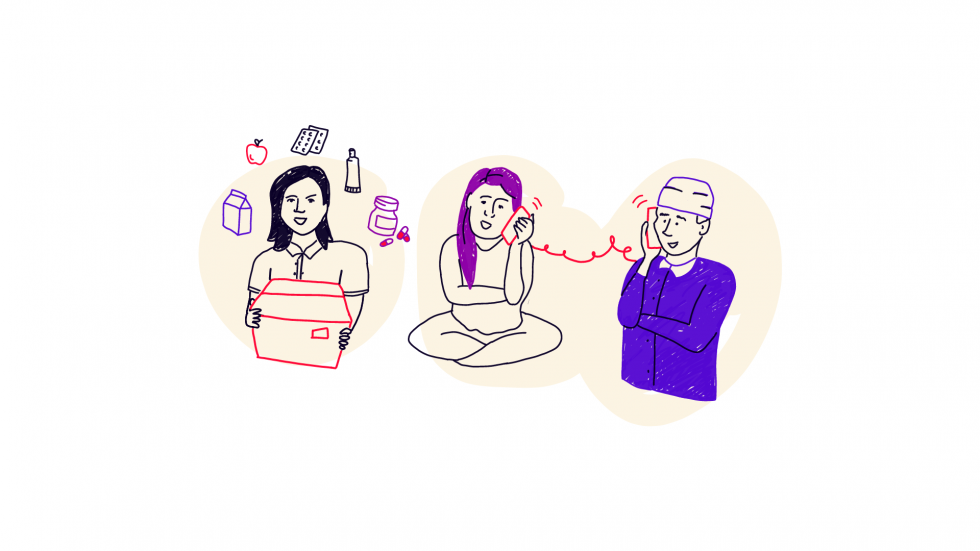 The first story today is a story of service scaling. Croix Rouge Chez Vous is a service launched by the French Red Cross which built upon the success and infrastructure of two existing services in their National Society – "Croix Rouge écoute" and "Allo, comment-ça va?" The platform, developed by French RCS volunteers, also builds upon lessons learned from the Italian RCS COVID response. They have also repurposed an existing space used for their innovation incubator, "le 21", into a call center to support this service. In their first month of use they received over 110,000 calls and delivered over 33,000 baskets of goods which were ordered through the platform. 
Across the world, from Georgia and Bulgaria to Egypt and Belgium, we have seen national societies quickly coming together to create and scale-up PSS hotlines and delivery services for vulnerable groups. In Denmark, the National Society had to restructure their operations in order to be able to man fifty hotline phones 24/7 and partner with the Danish government to support a health specific hotline manned by Red Cross medics. Bangladesh RC is also running hotlines in the Rohingya and Bangla language for Rohingya refugees and Bangladeshi host community in the Cox Bazar and Chittagong districts.
— 
Several National Societies have been experimenting with new platforms for delivering MHPSS. The Hong Kong RCS has been using Facebook Live to deliver PSS messages to the public. Several countries in MENA have been using WhatsApp groups, established during other service provision, to provide information and support to beneficiaries and identify community members which need additional mental health and psychosocial support. In more lower resource settings, including Yemen and Bangladesh, the radio, loudspeakers mounted on Tuk Tuks and loudspeakers attached to places of worship have been used by volunteers to disseminate MHPSS related messages. 
The IFRC Reference Centre for Psychosocial Support has been experimenting with ways to virtually train psychological first aid. They've developed a generic script that National Societies can translate into their local language, which allows for a standardized online training, and a worksheet that participants can fill out during the course. They've also been using all of the benefits of digital learning platforms, from virtual "break out rooms" for trainees to discuss topics to chat rooms for asking questions and submitting answers. 
The Croatian Red Cross Society's Youth and Volunteering Department have been creating theatrical plays for stress reduction, which they've been sharing on their YouTube channel and social media outlets to target teens and young adults in isolation. They've been collaborating with new partners, including local actors, musicians, and puppeteers, to add their creative expertise in the content. In a similar effort to use local tools to engage communities in stress relief, volunteers of the Malaysian RCS are creating videos showing how to do mental self-care through the local practice of Qi Gong. 
—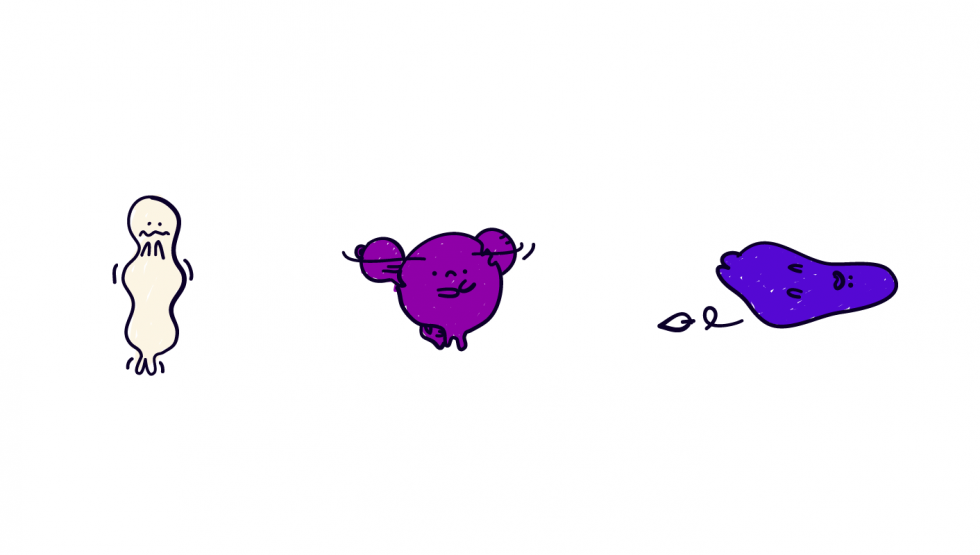 Hong Kong RCS has also been creating cartoon characters which represent different emotions. They've used these characters to make a series of online seminars for middle school and high-school students. These characters are also featured in a "14-day Well-being diary" developed by the Hong Kong RCS, which has been translated into several languages. An additional tool targeted at supporting children and youth is the thinkNinja app by Healios. Since the outbreak of COVID in the UK, Healios has made the app free to all young people across the UK and added COVID specific content and tools developed by child psychologists. 
In order to engage with relevant issues being faced in social isolation, and simultaneously address stigma, the Ecuadorian Red Cross Society has been hosting a series of "catharsis webinars" on a variety of engaging topics for youths including "Sex during quarantine". They'd had engagement throughout the country in from Colombia, Honduras, Peru, Venezuela, Mexico, Italy and the United States. They've also published a series of short videos, including a series on how to take care of your mental health. 
Depending on which population in the community you are looking to reach, the Mental Health Innovation Network MHIN has collected resources by population group, including women and children, the disabled, and the refugees. They also have a blog series on innovation and best practices in MHPSS, developed in collaboration with the WHO Department of Mental Health and Substance Abuse, called "Stories from the field". 
The IFRC Reference Centre for Psychosocial Support has also developed several innovative tools for reaching children. One project, Child Friendly Space at Home, was conducted in collaboration with World Vision International. In addition to a manual for facilitators, they have created a card deck containing kid-friendly exercises which families can download and use at home or receive in a family kit. 
A children's storybook 'My Hero is You: How kids can fight COVID-19' was produced by the IASC group on Mental health and psychosocial support in emergency settings. This working group is comprised of 56 agencies – including UN agencies, INGOs and national NGOs, plus IFRC, MSF and ICRC as observer members. The children's book was co-written by staff from the IFRC PS Centre along with other MHPSS technical advisors based in other agencies. The storybook has been taken up by UNESCO for inclusion in the Ministry of Education primary school curriculums globally, and is currently being translated into 109 different languages, in addition to sign languages (4 different types) and audio versions (currently in 8 languages), reading circles by members of royal families and celebrities & the general public uploaded on YouTube and adapted into radio plays. The IFRC PS Centre is trying to find funding to create Braille versions of the book to increase its accessibility to the visually impaired. Country level adaptations and large-scale rollouts have occurred in around 20 countries. 
Volunteer PSS
The Challenge: 
"I cannot take care of others if I cannot take care of myself" shared Martina Vertuccio in a recent Red Talks interview. RCRC volunteers from around the world have been sharing their stories and virtually coming together to share lessons learned and challenges. Volunteers have expressed that they fear for themselves and fear that they will bring COVID to their families and RC beneficiaries. 
The Opportunities: 
To support volunteers during this time, National Societies have been focusing on making sure that volunteers have an outlet for their anxiety and stress and feel connected to a community. IFRC has also published guidance on caring for volunteers during the COVID-19 outbreak. 
One example of this is in Peru, where the volunteers organize a weekly event called "Quarantine Craziness". This forum is dedicated to giving volunteers a space to talk about their anxiety with other volunteers. In Portugal, they've been hosting online meetings for volunteers to practice breathing exercises together. 
In some national societies where the volunteer population is mostly older adults, many of those volunteers are comfortable accessing digital tools for MHPSS. In the UK and Norway, the National Societies are working with No Isolation to test out the Komp, a one-button computer designed for those with poor digital skills. In addition to using this for older adult beneficiaries, this could also help elderly volunteers connect with one another, their families, and those who need support in their communities. 
In a geographically spread country such as the USA, the American RCS has initiated Project Wellness where Red Crossers call other Red Crossers to see how they are doing. This is a purely optional volunteer and employee activity for those working remotely to join in if so inclined. This activity to make calls may be conducted at one's convenience; there's no deadline. 
The ask is simple. Receive a list of volunteers to call and say, "Hi, this is ____, and I just want to see how you're doing"… and let the conversation take it from there. It's like calling your Aunt Betty in another state. If you enjoy talking on the phone, this can break up the stretch of undetermined 'at home' days, and encourage team building and experience sharing. The Serbian Red Cross has a similar service. 
Other National Societies are creating digital tools to support their volunteers. The Belgian RCS has launched a website for online monitoring of volunteer well-being and produced a similar website which is a crash-course for MHPSS. 
Other National Societies are mobilizing volunteers to solve the problems which affect them. In Egypt, the volunteers have been working with local start-ups and running hackathons to address topics which are affecting their health and well-being. 
Frontline Worker PSS
The Challenge: 
Caregivers are facing a disproportionate amount of exposure to COVID infection and pressure to keep their patients safe. Many RCRC health delegates and EMTs are facing stress and anxiety from their work and stigma when returning home. 
The Opportunity:
Supporting our health workers will improve the care they are able to provide to patients and help them continue to work throughout the pandemic. 
The #FirstRespondersFirst campaign has created a platform for designing innovations and interventions targeted at supporting care providers on the front lines. Their interventions and support range from teaching breathing exercises for stress mitigation to working with hotels to create rooms only for health workers so that the workers don't have to worry about bringing COVID to their families. 
The Canadian RCS has seen the importance of partnering medical and PSS delegates in their service provision, allowing services to be more flexible to the needs of the recipients, and also providing solidarity and connection within the staff. 
The American RCS has launched a program specifically for veteran caregivers. Through this service, caregivers connect in virtual peer support groups and wellbeing activities. Some of the connections are video conferencing to support a more human connection, and some of the services use a text-only format which allows caregivers to seek support while they are at a hospital or treating patients. The platform also has a peer mentoring component, where caregivers are connected to trained peer mentors who have had similar experiences. The platform is secure, safe, and confidential. 
Jennifer Gilbertson
Norwegian Red Cross
July 7, 2020